Using Smart Specialization Strategies in Silver Economy
Smart Silver Framework is the result of OSIRIS project developments involving expertise, resources and knowledge from Denmark, Finland, Estonia, Latvia, Lithuania and Russian Federation.
The main purpose of Smart Silver Framework is to concentrate common efforts for strengthening regional and interregional innovation ecosystems to increase innovation actors' capacity to generate sustainable economic growth by using smart specialization approach.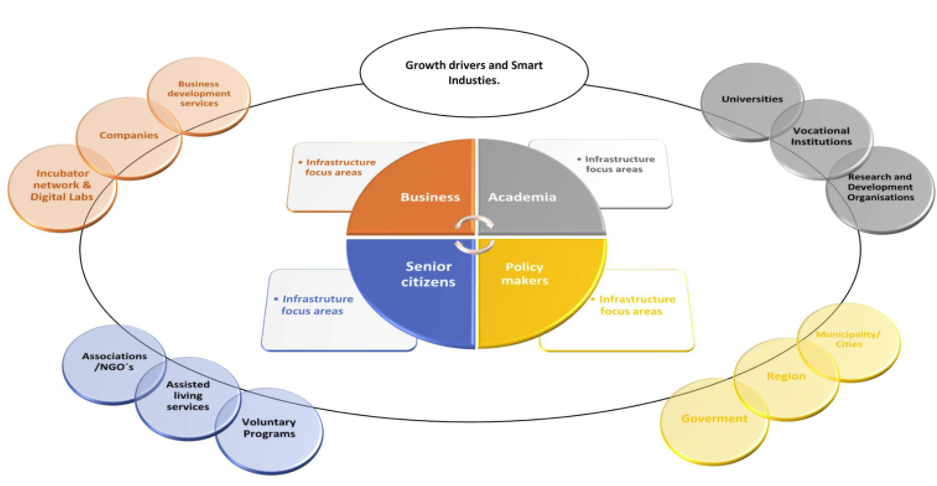 Smart Silver Framework (quadruple innovation helix framework*), established through this transnational cooperation, forms open innovation ecosystem concept representing different Baltic Sea Region actors from academia, business, public sector and senior organizations. The jointly elaborated 4-helix Smart Silver Framework (see figure above), adapted to each OSIRIS project partner's content, consists of three layers – categories, elements and infrastructure focus areas all of them linked to 4-helix actors. 
From Smart Silver Framework to Smart Silver Labs 
 It is built on OSIRIS project outcomes such as Marketing Research and Analysis, Knowledge Management Models and Open Innovation Toolkit consecutively elaborated to be flexible and adaptable in order to bridge to the Smart Silver Lab.
4-helix innovation actors, motivated and engaged embody Smart Silver Framework through creation of Smart Silver Labs as mechanisms for supporting smart specialization strategies implementation.
From Smart Silver Framework to Digital Silver Hub
Smart Silver Framework structure appears through the deployment of digital collaborative platform – Digital Silver Hub.
Digital Silver Hub going live integrates all of OSIRIS project outcomes, networked Smart Silver Labs operations, Transnational Accelerator and Financial mechanism functionalities in order to facilitate commercialization of innovative products and services developed using Smart Silver Framework.
*- Etzkowitz H. (2000), Leydesdorff, L. (2012)